Car hire Bayreuth - Discover Bavaria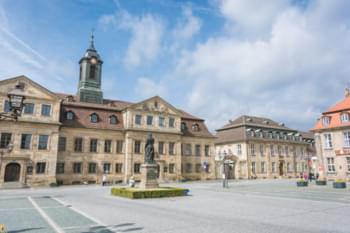 On our independent comparison portal you can easily and clearly compare car hire offers in Bayreuth. We are collaborating with reputable and accredited car hire companies in Bayreuth and always find the best deal on your car hire. You are free to choose whether you want to pick up your hired car in Bayreuth or at the nearest airport. With us you will find your desired car hire in Bayreuth - fast and cheap. With the hired car you can make beautiful trips in the city and your surroundings. Compare our offers on Driveboo and select your desired car at a reasonable price!
Exploring Bayreuth and surroundings with hired car in spring & summer
Bayreuth is one of the most beautiful cities and popular destinations in Bavaria. Whether you are travelling privately or on business in the Upper Franconian city: With the hired car you can always reach your destination independently and cheaply. So hire a car through our portal and explore Bayreuth on your own. The small town, which became world famous thanks to the composer Richard Wagner, has a lot to offer: Discover historical sights and exciting leisure activities as well as quiet recreational areas. The Red Main, one of the Main's source rivers, flows through the middle of the city. Bayreuth is also framed by the picturesque mountains of the Fichtel Mountains and Franconian Switzerland.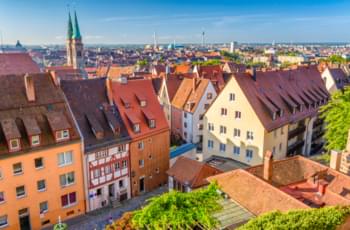 Nuremberg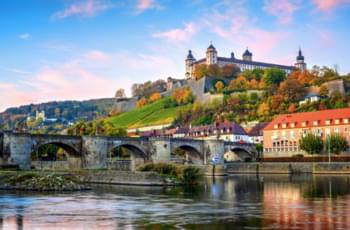 Würzburg
Hire a hired car cheap and pick it up in Bayreuth or at the airport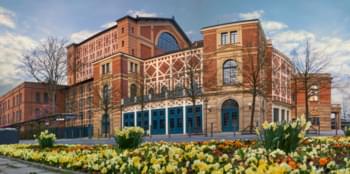 Book your hired car with us cheaply in advance. Then you can pick it up after arrival directly at the car hire and drive off immediately. You can choose to hire the car directly in Bayreuth or at thecar hire at the airport. If you are arriving by plane you can hire a car at the airport and drive to Bayreuth on your own. The nearest airport is the Nuremberg Airport (NUE). It is about 85 kilometers away from Bayreuth city center, so you'll be driving around an hour by hired car in normal traffic. Alternatively, if your city is not connected to this airport, you can land at Leipzig/Halle Airport (LEJ) or Munich Airport (MUC). Both are just under a two-hour drive away from the center of Bayreuth.
Exploring the historic city center of Bayreuth by hired car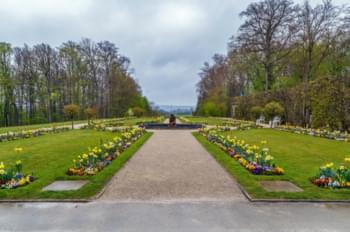 The historic city center is home to numerous buildings built in different eras. Visitors will get an interesting overview of Bayreuth's history here. Hire a car and visit, for example, the Margravial Opera House, which is a UNESCO World Heritage Site. Along Friedrichstrasse, you can see sandstone buildings from the 18th century. Here you can also find the Jean Paul House, where the writer lived until his death. In the district you can also visit attractive half-timbered houses and baroque buildings. At Kirchplatz you will find the Stadtkirche, the church of the city and also the oldest building in Bayreuth. The late Gothic sacred building towers sticks, thanks to its double tower, out high above the city's rooftops.
The Richard Wagner Festival
Bayreuth is known worldwide for its Richard Wagner Festival, which takes place every year from the end of July to the end of August in the Festspielhaus on the Green Hill. Various operas by the composer are performed during this event. If you want to visit the Bayreuth Festival, you can reach the Festspielhaus comfortably and cheaply by hired car. Even outside the festival, the theater with its striking brick facade is worth a visit. Visit the house and stroll through the festival park. If you want to continue in Wagner's footsteps, then drive to the Richard Wagner Museum. This is located in the Villa Wahnfried.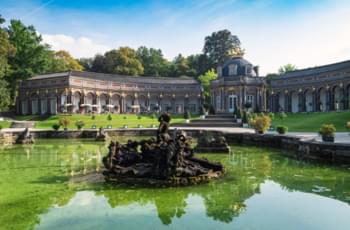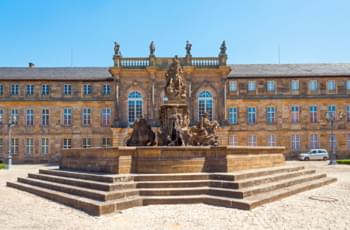 The new castle of Bayreuth
One of Bayreuth's most imposing buildings is the New Castle, built in the 18th century. The rococo building can be visited. It houses several exhibitions, including a picture gallery and an archaeological museum. Also stroll through the large courtyard garden, which is part of the complex.
A trip to the victory tower
If you want to enjoy an impressive view of the entire Bayreuth city area and its surroundings, take a hired car to the Siegesturm. It is located on the outskirts of the city on the hill Hohe Wart. The round tower was built of sandstone and is 17 meters high. Park your car and climb the 97 steps to the viewing platform.
Insurance for hired car in Bayreuth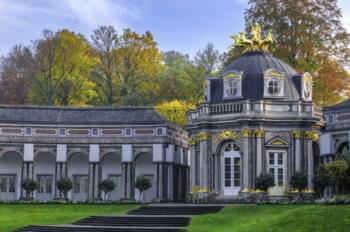 A sufficiently high liability insurance belongs to every car at Driveboo. With the insurance you are covered in case of damage and can enjoy your stay without hesitation. You also have the option to purchase additional insurances as needed.
Through our comparison portal, you can easily view all offers where the desired insurance is already automatically included in the rental price. The car hire company often offers additional insurance on site when you pick up your car. These are usually superfluous. It is best to read all insurance documents carefully before you leave. So you know what services you are already paying for and do not take out unnecessary insurance.
Full coverage without deductible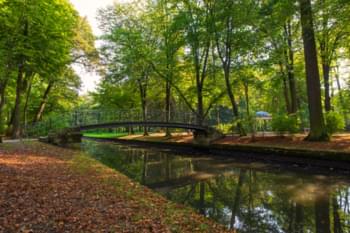 The full coverage without deductible is an insurance that covers scratches or similar damages. If you do not return the car in its original condition, you still do not have to pay anything extra in this case, because the fully comprehensive insurance without deductible already covers all claims. Over Driveboo you find offers in which the full comprehensive insurance without excess is already included in the total price. If you cause a damage to the vehicle during the rental period, the costs for this are first deducted from the deposit. In return, you will receive an invoice from the car hire company and a report documenting all damage. You then submit the paperwork to your car's agent in a timely manner so they can reimburse you.
Put down a deposit for the hired car in Bayreuth
When you pick up your hired car at the car hire agency, you leave the agreed deposit on site. It serves as security for the provider, which is why deposit-free offers for rental cars are usually unserious. The easiest way to pay the deposit is by credit card. In exceptional cases, a deposit of cash is also possible. The amount of the deposit depends, among other things, on the vehicle value and the rental company. You can read details about this in the rental conditions. If you return the car in its original condition, your deposit will be refunded in full. Usually it will be returned after a few days.
Use one-way rental for road trips in Bayreuth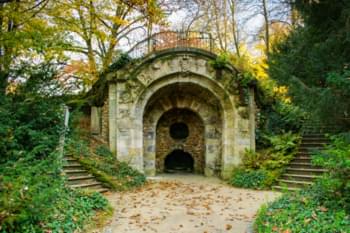 If you want to pick up your hired car at one location and return it to another, you can use one-way rental. This allows you to be extra flexible with your trip, as you do not have to return to the starting point. Check the offers in our comparison portal to find free or cheap offers for one-way rental. One-way rental is worthwhile, for example, if you are planning a road trip from Berlin to Bayreuth: start in Berlin and drive, for example, via Leipzig and Jena to the Wagner city. You can also take a round trip through Bavaria with stops in Nuremberg and Munich at a reasonable price and individually thanks to one-way rental. If you arrive by plane, you can hire your car at the airport and return it directly in the city.
When travelling with several people in Bayreuth: Register an additional driver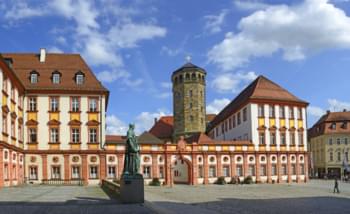 If you are travelling with friends or family, you can register a accompanying person as an additional driver. This person is included in the insurance and is then allowed to drive the car. This is especially worthwhile if you are travelling longer distances, such as between Berlin and Bayreuth. You register the additional driver on site with the car hire company when you hire the vehicle. To do this, the additional driver must be present in person and show his driver's license and ID card. Some rental companies charge a fee per additional driver, while for others this service is already included in the price. Through our comparison portal you will find offers that are cheap and already include all your desired services. If you have any further questions regarding your hired car in Bayreuth, please do not hesitate to contact our service team!