Discover Armenia flexibly by hireal car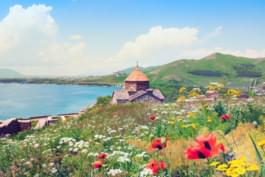 Discover Armenia's landscape by hireal car
Whether you want to visit the capital Yerevan or other places of interest in Armenia - with a hireal car you are always flexible and independent of public transport. Simply book the right vehicle for Armenia online in advance. Our portal shows you the prices of car hire companies in Armenia transpahirely and helps you to book your hireal car. You can pick up the car of your choice directly after your arrival in Armenia at Yerevan Airport. In this way, you will be mobile from the very first moment.
Facts about Armenia
Armenia is located in the Caucasus region between Europe and Asia. Yerevan is the capital of Armenia, where almost half of the population lives. Armenia is a mountainous country in which more than 90% of the area is 1000 m above sea level and is therefore ideal for hiking. Drive your hireal car to the following places and explore the landscape by foot.
Dilijan National Park
Yenokavan
Jeghegis
Halidzor
Gosh
What highlights should I not miss in Armenia?
You should also drive to these sights by hireal car:
Sewansee
Chor Virap
Norawank
Sewanawank
Haghpatavank
Matenadaran