Explore Nerja in Spain with the hired car
Compare car rentals in Nerja and save money thanks to the transparent price comparison on Driveboo.com. Do you still have questions about rental cars in Nerja or about car hire booking? Then don't hesitate to contact our service team by chat or by phone! Would you like another portion of summer? Then get on the plane and fly to Málaga Airport or Granada-Jaén Airport and take the hired car to Nerja! If you haven't had enough sun yet, you are longing for more. And maybe for the sea. For this one we have another very good tip. Spain. Andalusia. Nerja.
Spend autumn and winter in beautiful Nerja
Nerja is worth a visit all year round. But especially in the autumn and winter months, when it gets cold and wet at home, a trip to Nerja is definitely worth it. We will tell you about the advantages of travelling to Nerja in autumn and winter:
Since not so many tourists are attracted to Nerja in the colder months, you can explore the town and most popular sights at your leisure.
In the fall and winter months, both accommodations and rental cars in Nerja are cheaper.
Even in the off-season, you can look forward to a few hours of sunshine every day in Nerja.
Why should I explore Nerja by hired car?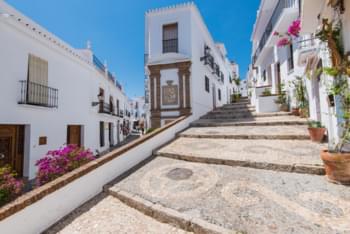 Exploring Nerja
Nerja is located in the province of Málaga in Andalusia, that is, on the south coast of Spain, on the Costa del Sol, near Granada or Málaga. About 22,000 inhabitants live here and enjoy the sun all year round. In the warm months they spoil tens of thousands of tourists from all over the world. The reason is simple. Nomen est omen. You are here on the Costa del Sol, in one of the sunniest areas in Europe. The place seems to have been settled a very long time ago. Caves testify to Paleolithic settlement by man. The first mention of the village by name dates back to the 10th century. In the 16th century a small fortress was built nearby to protect the town from attacks from the sea. The remains of this embattled period can still be admired today. However, the biggest attractions in the region, if you don't want to just bask in the sun, are the caves of Nerja, the Balcón de Eropa and the aqueduct east of town. The main reason for a holiday in the region, however, should be: to soak up the sun while swimming in the sea!
What is the best way to get to Nerja?
In Spain there are many cities with airports. Two destination airports are suitable for a quick trip to Nerja: Granada-Jaén Airport (GRX) and Malaga Airport (AGP). From both airports, you can get to Nerja by hired car within about an hour. However, you should have booked your hired car in advance. Only if it is available directly at the airport, you can travel as fast as possible. It is best to book it with Driveboo.com a few days before your arrival. Indicate that you want to take it over directly at the airport. This way you will profit several times over.
Travel preparations - what you should know about your domicile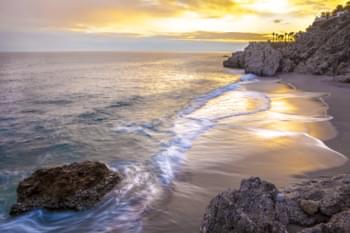 Beautiful beach near Nerja
The Costa del Sol is very spoiled when it comes to good weather and sun. As the very most important travel utensil we would consider a good sunscreen. After that comes a dictionary. Although there are a lot of tourists, not everywhere you can communicate in German. English could work as plan B. There is no guarantee for it. Third tip: Here the clocks tick differently. You live according to the climate and enjoy life. If you think you have to rush on holiday, you have two problems: First, the locals take it very easy and second, the executive does not like to see people speeding. That's why you should purposefully slow down on holiday.
These are the traffic rules you should follow in Andalusia
MAXIMUM SPEED
The beautiful landscape of Andalusia is ideal for a road trip. Starting with a hired car in Nerja is ideal to explore the coast of the Costa del Sol. As mentioned before, Spain has rough customs when you are stopped by the police for speeding, or parking the wrong way, to name just two examples. The following speed limits apply:
PARKING
In Spain, parking sins are not a trivial offense. Here you have to pay attention. The colour of the line on the curb tells you whether you are allowed to park / stop or not.
Yellow: absolute no stopping
Blue: parking allowed for a limited time, partly with parking fees
Insurance
Please take "fully comprehensive insurance without excess". You must also take out liability insurance. The liability coverage should be about 7.5 million euros total amount of damage.
ADDITIONAL DRIVER
Especially in heavy conditions, you may not always like to be in charge alone and take turns driving. So, especially in Spain, a second driver might be worthwhile. However, you may not simply take turns at the wheel. You may have to book a second driver. Driveboo.com reveals all possible additional costs, if there are any for this.
IMPORTANT TELEPHONE NUMBERS
Places of interest Nerja: Where to go with the hired car?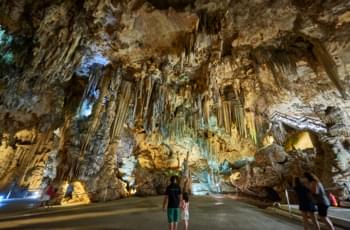 Caves of Nerja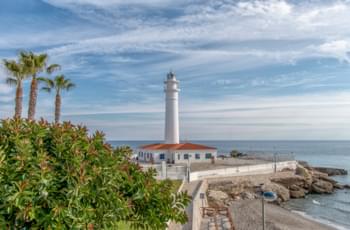 Light house in Nerja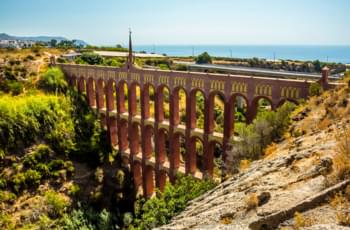 Eagle Aqueduct
It's all about exploring beautiful beaches and maybe taking a few side trips to neighboring towns. Here is a list of places to visit:
Caves of Nerja
Faro Torrox (lighthouse and Roman house)
Eagle Aqueduct
Cantarriján beach
Nerja Playa Burriana
Playa de Maro
Playa de Las Lindes
Balcón de Europa
How far is it by hired car to...?