Hired car in Zurich
Are you looking for a hired car in Zurich? Then take a look at Driveboo.com in order to find the best fitting offer for your stay in Switzerland.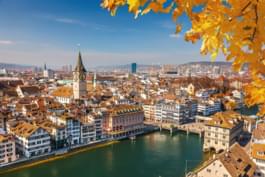 Zurich is a world metropolis and a global centre of banking and finance. It lies in northern Switzerland and is the most populated canton in the country.
Zurich offers a variety of beautiful sights that you can easily visit with your hired car. Your hired car will give you many advantages, for example, being flexible and independent of public transport and tourist groups.
Where can I pick up and return the hired car?
Depending on where you arrive in Switzerland, you have got many options from where you can collect and return your hired car.
Numerous car hire companies are located both in the city and at the airport. You can decide for yourself which collection location is best suited for you and your plans.
If you arrive by plane at Zurich Airport (ZRH), the largest airport in Switzerland, you can hire a car directly at the airport from a car hire company. The chances are usually very well to receive a favourable offer. In addition, you usually have better (longer) opening hours at the airport and a higher chance of availability of special vehicles such as convertibles, sports cars or SUVs.
Advantages of hiring a car at the airport are:
cheap car hire offers
longer opening hours
better availability of vehicles
Where can I park my hired car in Zurich and Switzerland free of charge?
Parking is free of charge almost everywhere between 9 pm and 8 am. In Switzerland, parking areas are marked in different colours. Each colour has its own regulation:
White zones: for a fee at the parking meter you can park up to 30 min or 2-4 hours
Blue zones: only with a valid parking ticket
Yellow zone: Parking ban, mostly private or company Car park
Red Zone: With parking disk, 15 minutes can be parked here free of charge
What are the maximum speeds in Switzerland?
Which sights should I visit in Switzerland?
Switzerland offers a great variety of sights that you can easily visit with your hired car. It gives you the opportunity to visit places independent of public transport and tourist groups. Moreover, you can also visit other destinations and cities of Switzerland.
In the list below, you will find some examples of sights that you should definetly visit with your hired car.
Chapel Bridge Lucerne
Rhine Falls
Lake Brienz
Blausee
Lake Zurich
Lion Monument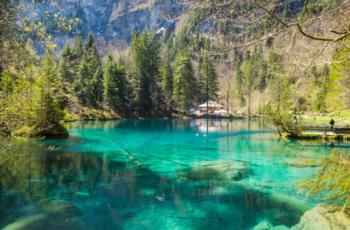 Blausee Bern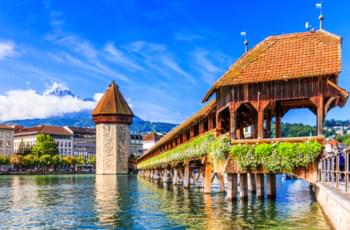 Chapel Bridge Lucerne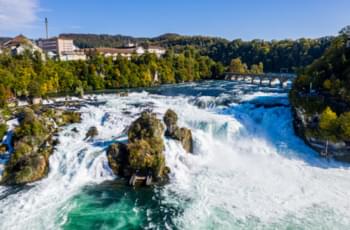 Rhine Falls Schaffhausen
Information about driving in Switzerland
Switzerland follows right-hand traffic
It is forbidden to use your mobile phone for calling or texting while driving
When it comes to seatbelts, all passengers are obliged to wear them
Emergency number:
Police - 117
Ambulance - 114
Fire service - 118
Enjoy the benefits of a hired car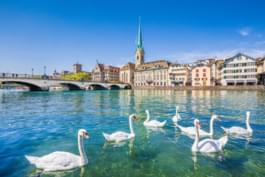 With a hired car, you can enjoy the beautiful landscape of Switzerland. It gives you the opportunity to design your stay flexibly and independent of public transport and tourist groups.
A car hire allows visiting remote places, hidden trails or restaurants with a view, impossible to get to by taking a taxi or a bus. These special places are usually inaccessible by bus. Also, there is nothing better than a car waiting for you at the railway station or airport. Nothing more comfortable than not having to carry your baggage to the bus or tram, or paying taxi airport additional charges for it.
Car hire - further information
You can set different filters during your price comparison online. Then you can find the best fitting offers for your stay in Zurich. You can choose between different insurance benefits, vehicle categories and additional services. What does fully comprehensive insurance without excess mean? What is a refund of the excess? What does fair tank regulation mean? There are many questions regarding your next hired car. Here you can find short explanations. If you have any further questions, our service team will be happy to answer them by e-mail or telephone.
Comprehensive car insurance - also known as fully comprehensive: This insurance covers damage to yourself, your car as well as compensating the third party if you are involved in an accident. Nevertheless, you will need to pay a deposit when picking up your hired car. If an accident occurs, the hired car supplier will refund your withheld deposit.
Deposit - You can find the amount which you will need to deposit while picking up your car in the rental conditions of your booking. Please be sure to bring your credit card with you to the station, as it is just possible to pay your deposit by credit card.
Credit card - During the time you hire a car, the deposit will be blocked on your credit card. In case you drop off the car in good condition, this amount will be released again. If there are any damages, the car hire employee will retain your money.
What are the options for my hired car?
INSURANCE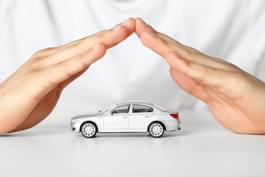 With the right insurance through Zurich
Even if you drive very carefully and safely, damage may occur to the hired car. To ensure that you can continue your journey without stress, we recommend that you take out fully comprehensive insurance without excess. In the event of damage, you will have to advance the costs. However, you will be reimbursed by your insurance company after your arrival back home. Simply submit the relevant receipts when you return from Switzerland.
One-way rental
For those who want to do a road trip to Switzerland with a hired car, the one-way rental might be the best option. This means that you can pick up your hired car at the location of your choice and return it conveniently to another location. This is particularly useful if you are heading for multiple cities, such as Lucerne, Basel or Lausanne.
Additional driver
What does the additional driver option actually mean? If you specify another person as an additional driver when booking, you can take turns driving the hired car. So that one driver can sit back and relax, too, you can simply hand over the steering wheel to the additional driver.