Hireal car Belize District: Take a hireal car to Belize's dream beaches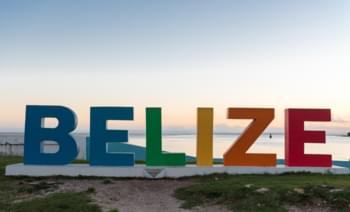 Welcome to the Belize District
Grab a hireal car and explore the Belize District. The Belize District is one of Belize's six administrative districts and can be easily explored by hireal car. Explore beautiful beaches, cruise the capital Belize City or take an adventurous hike in Belize's rainforest. Whatever your plans for Belize District, with a hireal car you are always flexible and independent. The best way is to book the car of your choice online in advance. You can pick up the hireal car at one of the car hire agencies immediately after your arrival in Belize District.
Which hireal cars are available to me in the Belize District?
With the right hireal car, your trip to Belize will be an unforgettable experience. We can tailor a car to suit your needs and wishes. Choose your preferred model and look forward to a comfortable journey through Belize District in your hireal car. In Belize, you can choose from a variety of vehicle types, including a small car, SUV or compact class. As an additional option, you can also choose automatic transmission, air conditioning and four-wheel drive for your hireal car. This way you will have a hireal car for your holiday in Belize that suits all your needs. Last but not least, we recommend that you take out fully comprehensive insurance with no excess. This way you are perfectly covered in case of damage and have no further costs to worry about.
To be on the safe side, you can also take out an underbody protection insurance as well as a glass and tyre protection insurance.
Things to know about the Belize District
Capital: Belize City
Number of inhabitants: 96,000
Area: 4,307 square kilometres
Islands: Caye Caulker, Ambergris Caye, Long Caye, Moho Caye, St. George's Caye
By hireal car to the highlights in Belize District
MAYA RUINS OF ALTUN HA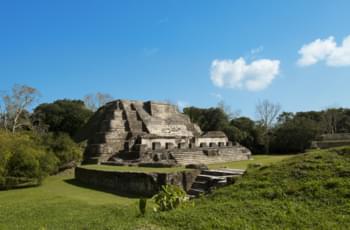 "The Temple of the Masonry Altars"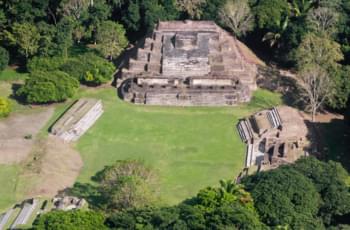 Mayan ruins from above
At the top of your list for Belize District by car hire should be a visit to the Mayan ruins of Altun Ha. At an impressive 16 meters, the pyramid "The Temple of the Masonry Altars" is the largest. Archaeologists estimate that around 10,000 people lived here in 200 BC. Three plazas and 13 complexes form the centre of this important ceremonial site. Take the wheel of your hireal car and head for Altun Ha. Until 1963 the historic site was undiscovered and surrounded by original rainforest. Depending on the weather, you can climb the stone steps of the temples all the way to the top. From there you have a wonderful panoramic view of the surrounding landscape.
Belize National Zoo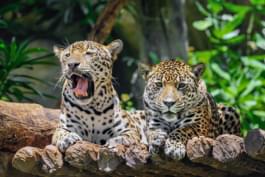 Jaguars at Belize Zoo
The Belize Zoo is a 15 minute drive by hireal car from Belize Airport (BZE). The Zoo was founded in 1983 and is the largest zoo in Belize. Its original purpose was to provide a sanctuary for captured wildlife after completing a series of documentaries. Today, especially families enjoy the 48 species. You can look forward to jaguars, various species of monkeys, birds and much more. A trip with a hireal car to the Belize Zoo is always worthwhile.
MORE SIGHTS
Would you like to discover more highlights in Belize? As you are always mobile and independent with a hireal car, you can drive to all the places you want. You should not miss the following must-sees in the Belize District:
Museum of Belize
St. John's Cathedral
Swing Bridge
Baron Bliss Light
Roadtrip Belize: Experience exciting adventures with a hireal car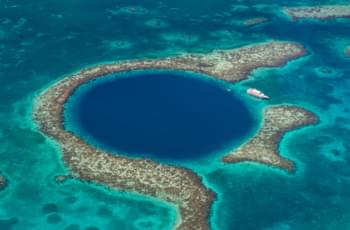 Blue Hole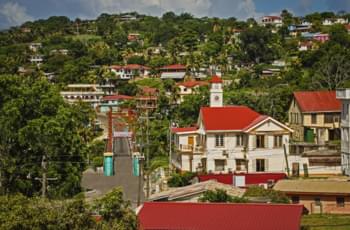 San Ignacio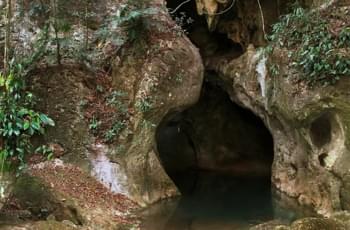 Actun Tunichil Muknal
Fancy a road trip with a hireal car? Belize is located between Mexico and Guatemala and is ideal for a road trip by hireal car. Belize is a relatively small country, but has a lot to offer. A huge coral reef invites you to snorkel and dive, in the jungle there are hidden Mayan sites and in the mountains you can go on adventurous cave tours or cool off with a swim under a waterfall. In the table below you will find a few places you should definitely visit by hireal car or boat:
These are the most beautiful islands of Belize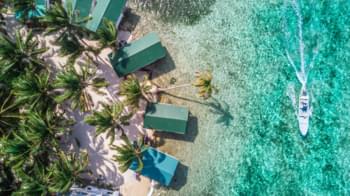 Pure relaxation on dream beaches
If you travel to Belize, you will of course want to spend a few days relaxing on the beach. This is best done on one of the beautiful islands of Belize. Look forward to white sandy beaches, turquoise blue water and an ice-cold drink under palm trees. You can get all this on the following islands:
Caye Caulker
Ambergris Caye
Tobacco Caye
Snake Cayes